15

Jun 18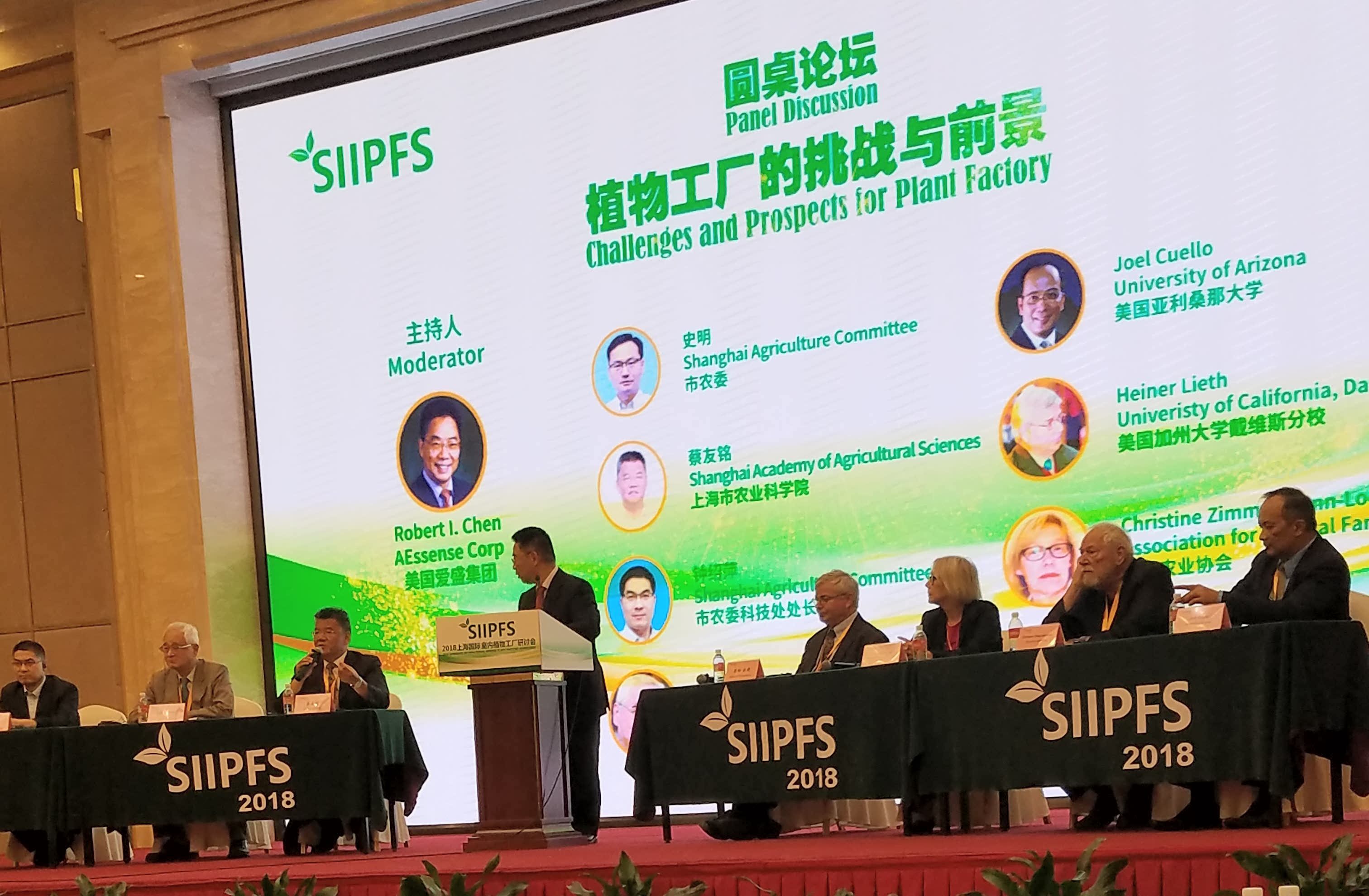 AEssenseGrows' International Indoor Farming Symposium Opens to Full House in Shanghai
Co-Sponsored by AEssenseGrows and the Shanghai Academy of Agricultural Sciences,
the Event Brings Together Global Leaders in Indoor Commercial Cultivation
SUNNYVALE, Calif. AEssenseGrows, an AgTech company specializing in automated aeroponic platforms for high-yield plant production, announced today that its co-sponsored Shanghai symposium on commercial indoor agriculture brought in a capacity crowd to hear from global experts. Co-sponsored by AEssenseGrows and the Shanghai Academy of Agricultural Sciences (SAAS), the 2018 International Indoor Plant Factory Symposium drew about 160 attendees to the Blue Palace Hotel in Jiading, Shanghai.
"Indoor farming is the solution to sustainable food production and water limitations for the world's increasing mega-cities,"Christine Zimmermann-Loessl, chairwoman of the Association for Vertical Farming, told attendees on June12, the opening day of the symposium. "Vertical farming can address the food shortages while instituting controls that improve food safety. Existing horticulture methods are not sustainable and will not meet the needs." During her presentation, "The transforming power of vertical farming—global trends and local impacts," Zimmermann-Loessl said vertical farming is "attracting young people to this industry."
The symposium brings together some of the world's leading experts in commercial indoor cultivation for an exchange of ideas and information about the latest innovations, technologies and research in the field. The event runs through June 14.
Prof. Erik Runkle, Michigan State University, and Dr. Ep Heuvelink, Wageningen University, Netherlands, led the chorus of speakers over the day as they talked about the breakthroughs in both energy efficiency, yield improvements, and precision, coming through indoor LED lighting
Dr. Dickson Despommier, emeritus professor at Columbia University, predicted indoor farming will play a large role in the city of the future. "In 20 years, 80 percent of people will live in cities," Despommier said."Cities and buildings will integrate natural resources: plants, water capture, energy management. A key first step is rooftop greenhouses on the way to vertical farms throughout the city."
Professor Toyoki Kozai, president of the Japan Plant Factory Association, discussed the role advanced technology will play in vertical farming. "Plant factories need artificial intelligence to double plant factory productivity over the next five years because there are so many complex topics to integrate," Kozai said.
"This is exactly the type of event needed to help ensure the indoor farming industry will meet the needs of society while presenting opportunities to the business community," said Robert Chen, president and CEO of AEssenseGrows. "The conversations and presentations I'm hearing so far give me great confidence that our burgeoning industry will do both."
Additional presentations include:


"A total solution and innovation for smart plant factory with artificial lighting," by Dr. Huafang Zhou, vice president of AEssenseGrows

"Cuello's law and designing vertical farms into the food-water-energy nexus," by Professor Joel Cuello, University of Arizona
Detailed information about the symposium can be found at www.plantfactorysymposium.com. Videos from the event will be available soon on the AEssenseGrows website.
AEssense Corp. (pronounced "essence"), founded in 2015, is a precision AgTech company based in Sunnyvale, CA. AEssenseGrows provides accelerated plant growth SmartFarm platforms and software automation delivering pure, zero pesticide, year-round, enriched growth to fresh produce and medicinal plant producers globally. With AEssenseGrows, you can precisely control your production operations at your fingertips from anywhere in the world.