08

Jan 19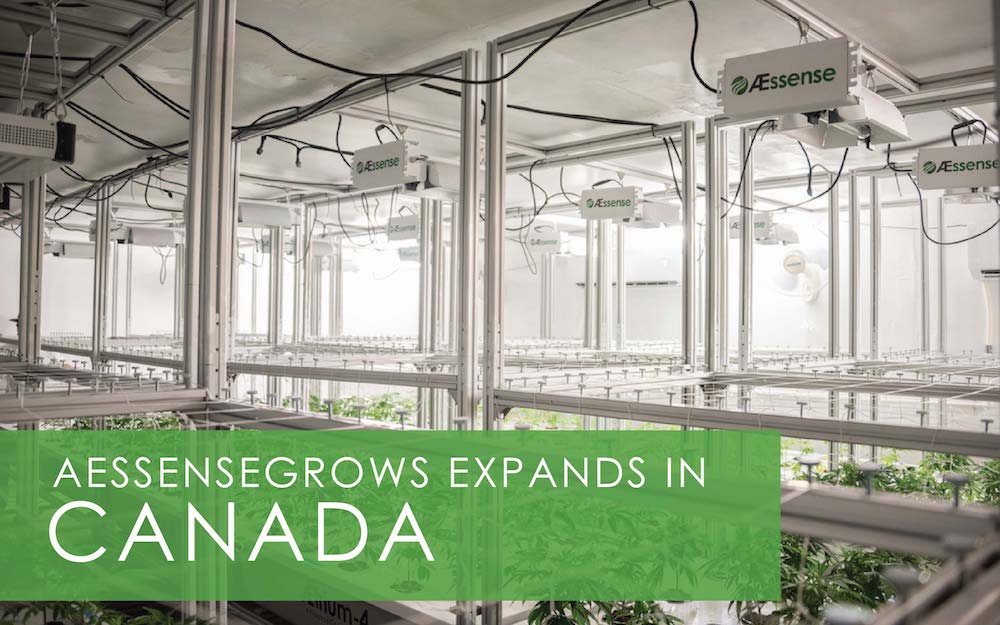 RMMI Selects AEssenseGrows Aeroponic System as the Cultivation Technology for its Cannabis Business
The AEtrium System Uses Automation and Precision
to Deliver Superior Aeroponic Quality and Yields
SUNNYVALE, Calif., Jan. 8, 2019 -- AEssenseGrows, an AgTech company specializing in automated precision aeroponic platforms for consistent high-yield plant production, announced today that Alberta-based Rocky Mountain Marijuana Inc. ("RMMI"), a wholly-owned subsidiary of RMMI Corp. (CSE:RMMI), has selected its AEtrium grow system to enter Canada's blossoming cannabis market.
RMMI chose the AEtriumsystem, including the recently introduced AErix grow lights, for phase 1 of its main building, located in the County of Newell, Alberta, Canada, where the company will focus on the production, cultivation and sale of cannabis in various forms. RMMI anticipates producing over 6,000 kilograms of cannabis once its phase 1 main building is at capacity. The Newell property has the potential to expand up to 330,000 square feet of equivalent cultivation area yielding 150,000 kilograms of cannabis annually.
"We have entered, without question, an intensely competitive new industry. RMMI has adopted an approach to production that's grounded in science and technology, 'blending science with nature'," said Earl Connors, founder, president and CEO of RMMI. "With the AEssenseGrows system, we can maximize production yields and product quality as a low-cost producer, while minimizing risk."
The AEssenseGrows AEtrium system delivers sensor-driven automation to enhance the inherent benefits of aeroponics. The company's Guardian Grow Manager central management software monitors grow conditions 24/7 and, if needed, automatically adjusts key variables such as lighting and nutrients to maintain optimal conditions.
"RMMI's strategy of bringing together plant science and technology makes it a perfect fit for AEssenseGrows," said Robert Chen, AEssenseGrows' president and CEO. "Our automated precision system delivers the controls needed to ensure the consistent, high-quality yields that are so important in this highly competitive new market."
About AEssenseGrows
AEssenseGrows (pronounced "essence grows"), founded in 2014, is a precision AgTech company based in Sunnyvale, CA. AEssenseGrows provides accelerated plant growth SmartFarm platforms and software automation delivering pure, zero pesticide, year-round, enriched growth to fresh produce and medicinal plant producers globally. With AEssenseGrows, you can precisely control your production operations at your fingertips from anywhere in the world.
About RMMI Corp.
RMMI is an Alberta based company that focuses on the production, cultivation and sale of marijuana in various forms. RMMI, through its wholly-owned subsidiary, Rocky Mountain Marijuana Inc. ("Rocky Mountain"), is a late stage applicant under the Cannabis Act (Canada) and is in the process of obtaining the requisite license to commence cannabis production and operations. Rocky Mountain blends science with nature, using aeroponic cultivation and CO2 extraction, and intends to produce high-purity, organic-quality cannabis oils. RMMI's team will employ leading commercially-available science and technology to maximize production yields and product quality as a low-cost producer, while reducing risk to its crops and its business.
For more information about RMMI, please call Investor Relations or visitwww.rmmi.ca.